HEPA, HEPA, Hooray – Your Guide to Industrial Vacuum Applications
High efficiency particulate air (HEPA) filters are now typical components of both residential and industrial vacuums. Unfortunately, not all HEPA filters are worth celebrating – poor manufacturing or improper use can lead to all manner of micron matter madness.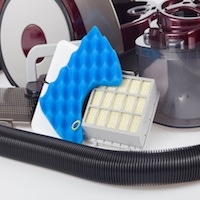 Here's what you need to know when it comes to choosing HEPA vacs for industrial use.
Know It
First thing's first: you need to know what qualifies as a HEPA filter. Luckily, the Environmental Protection Agency (EPA) has a convenient definition under 40 CFR 745.83 of its Toxic Substances Control Act:
"HEPA vacuum means a vacuum cleaner which has been designed with a high-efficiency particulate air (HEPA) filter as the last filtration stage. A HEPA filter is a filter that is capable of capturing particles of 0.3 microns with 99.97% efficiency."
How big is a micron, you ask? According to Bacteria World, a micron or "micrometer" works out to about 0.00004 inches. Put five microns together and you have a red blood cell. Get 75 in one place for a party and you've got yourself a human hair. Bottom line? Well, 0.3 microns are really, really small.
Work It
There are a wide variety of HEPA filter vacuum cleaners on the market. The problem? Not all of them are meant for industrial applications.
Vacuums meant for purely residential use – such as light housecleaning or cleaning up a homeowner's garage – aren't subject to the same requirements as vacuums used for industrial work. And while residential vacuums are far cheaper than their industrial counterparts, they won't be able to keep up with the sheer volume of particulate matter pumping through the system.
Which bring us to the most important point . . .
Test It
Let's be clear: EPA Title 40 deals specifically with the removal of lead-based paint from certain residential structures. Although the agency has adopted the industry-standard definition of HEPA filters, there are better systems available – for example, those that come with multiple filters or use ultra-low-particulate air (ULPA) filters.
These trap 99.9999 percent of particles 0.12 microns or larger in diameter. This means if you're dealing with a clean room or laboratory, ULPA is your best bet.
But no matter what vacuum you choose, testing and maintenance are essential. Before buying, check to see where the primary filter is placed.
Between the impeller and the collection bag is best because this creates negative pressure and pulls the filter hard against the gaskets. Filters on the other side of the impeller are under positive pressure and have a greater chance of leaking.
In addition to following the manufacturers cleaning instructions, regularly check your vacuum for signs of leakage. The easiest way? Turn it on in a sunny room and see what comes out – ideally, there should be nothing. For more rigorous tests, use a laser particle counter.
Want the best HEPA vacuum for your industrial application? Know the standards, get what you need and always, always test.
Next Steps: