Digital Taggers Hope to Drag HVAC Into the Future
Despite the rise of high-efficiency furnaces, quiet A/C units and technology like digital thermostats with programmable temperature profiles, HVAC maintenance is stuck in the past.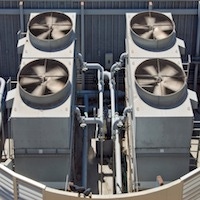 That's the argument of Alex Rangel, co-founder of HVAC management software company Ravti, which has high hopes of modernizing the industry. And it's a big industry – the global HVAC market is valued at over $77 billion this year alone, according to market research firm IBIS World. So what does Ravti bring to the table?
Tag! You're It
Ravti's value proposition is examined in a recent Tech Crunch article – and it seems Rangel has an interesting way of making his case. When he met with author Cat Zakrzeweki, he came armed with a fistful of crumpled paper slips each covered in unreadable scrawl.
Rangel's point? That this is how property managers try to keep track of HVACs at their facilities, leading to increased maintenance costs and decreased lifespan.
The alternative? "Tag" each unit with a digital identifier instead of a pen-and-paper profile. First, units are digitally photographed and then assigned barcodes. All data is saved in the cloud and easily accessible through the company's software – managers simply click on the unit in need and a call is put in to their preferred service vendor.
The startup claims that an average facility spends around 30 percent of its budget on HVAC maintenance; in phase 2 of Ravti's program, they hope to collect detailed, real-time information about unit condition and energy use to improve power efficiency.
Hungry, Hungry HVACs
HVAC units account for almost 40 percent of the energy used by commercial buildings, according to FierceEnegry. And while government and regulatory agency focus on energy reduction is driving the development of advanced, automated HVAC controls uptake has been slow, in part because there's no standardization of exactly what "advanced HVAC" means.
Varying equipment types, uses, and locations yield differing benchmarks, making it difficult to accurately compare energy use and possible routes to better efficiency. In other words, furnaces and air conditions are hungry for power, but no one's sure exactly how much they're eating.
Slimming It Down
Until regulation catches up with expectation, companies need to do everything they can to cut costs and keep HVACs running smoothly. This means regular maintenance using high-efficiency tube and coil cleaners, in combination with new technologies like Ravti to help identify units in need of repair before they fail altogether.
HVAC technology evolves slowly because the basics still work: furnaces and air conditioners don't need radical redesign. But they can benefit from better identification – at least then you'll know what's eating your electricity budget.
Next Steps: