Going Green? Your Restroom Cleaning Plan
Think your restroom is clean? Think again. Public and commercial bathrooms contain "too many bacteria to count."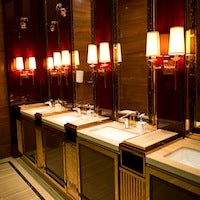 That's the designation applied when there are more than 250 colony-forming units per millimeter – in the case of high-traffic restrooms, the number approaches 1000. Yuck.
The findings aren't exactly a shock, and lead most companies to rely on aggressive, chemical-laden cleaning policies to ensure employees and members of the public don't get sick.
But it's also possible to "go green" with your restroom cleaning. Here's how:
Number One
Liquids. These are your bread and butter when it comes to cleaning and disinfecting bathroom surfaces. Best bet if you're going green? Look for products that are part of the Environmental Protection Agency's Design for the Environment (DfE) program.
These products undergo strict chemical screening and also meet specific performance standards. It's critical to choose cleaning liquids that can do the job efficiently and with a minimum of waste, and DfE options are often the best mix of both.
Number Two
Solids: where most of the mess happens, and how you get rid of your toughest problems. There are several ways to go green here – start by replacing paper towel dispensers with high-velocity hand dryers.
This not only reduces the amount of paper waste produced but also lowers the chance of toilets being clogged due to the improper disposal of paper towels.
Next, consider something like the antimicrobial fixtures now being used in North Carolina fast food restaurants. By replacing standard door handles, light switch covers and push plates, it's possible to reduce the spread of common diseases – and potentially increase sales. In the food industry especially, clean washrooms encourage customer certainty of a clean kitchen.
Finally, it's important to periodically bring out the heavy guns: vapor steam cleaners and other high-performance cleaning products that can efficiently kill microorganisms using extreme heat rather than harsh chemicals. The result? Clean restrooms that aren't covered in chemical residue and are ready for high-traffic use.
Number Three?
Biologically speaking, this sounds terrifying. In practice, it means creating a strict cleaning schedule to ensure your restroom is always in top form. For example, a daily clean with DfE liquid products is a good idea, as is a weekly steam cleaning to take care of any more troublesome bacteria.
Bottom line? It's possible to go green and still keep restrooms clean.
The plan starts with EPA-approved chemical products, made more effective when combined with antimicrobial hardware along with high-quality steam cleaning equipment. Finally, a set schedule prevents under-cleaning, over-cleaning and waste.
Go green – it's not such a crapshoot after all.
Next Steps: