Cheap Natural Gas Fires Up Cogeneration Plant Proponents
In 2006, Koda Energy inked a deal with Minnesota company Rahr Malting Co. to build a power plant that not only generates electricity but captures waste heat created during the process and puts it to use.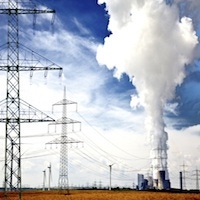 These "cogeneration" plants aim for both environmental stewardship and fuel savings, which fluctuate with the price of natural gas.
When the plant got the green light, for example, the price of natural gas was $13 per one million BTU. By 2012, it bottomed out at $2. Is cheap natural gas the start of a slow decline for cogeneration?
Potential Benefits
According to Cogen Europe, 11.2% of all power produced in the European Union (EU) comes from cogeneration facilities. There's a great deal to like about these plants, says the agency, including lower CO2 emissions, diversity of fuel sources and increased efficiency – in some cases approaching 90%.
Cost savings are touted as another benefit, but for natural gas plants these savings rely on high prices: the cheaper the fuel, the smaller the savings.
Cogeneration plants are also more expensive to build. Koda Energy's vice president Stacy Cook says as gas prices dropped the company "had some months where it was showing a lot of red."
Prices are now on the rebound, and as Cogen points out, some countries in the EU, such as Latvia and Denmark, rely on cogeneration to supply more than 40% of their electricity.
If You're Not Part of the Solution . . .
The author of a recent TomDispatch.com article discusses the path of climate change legislation in the United States. The Obama administration is focused on "clean" natural gas, which has the potential to be both cheap and environmentally superior to coal.
As professor Naomi Oreskes points out, however, this superiority is in large measure tied to improved technology – if coal plants update their burning and conversion methods, they could come close to matching the CO2 output of natural gas.
What's more, natural gas is actually methane, or CH4, which is a far more potent greenhouse gas than CO2. Although it dissipates 10 times more quickly than CO2 it has a greater impact, especially in the short term (20 years or less).
Her conclusion? You can't solve the fossil fuel problem by burning more fossil fuels, no matter how "clean."
This leads right back to cogeneration plants and Cogen's benefit list: natural gas isn't the only option for generating heat and power. In addition, improved power plant cleaning technologies like those offered by Goodway mean efficiency is on the rise, with less energy than ever lost as "waste."
The final verdict: cheap natural gas doesn't spell the end of cogeneration – and dropping prices may actually encourage a move away from fossil fuel dependence.
Next Steps: