Bed Bugs Take a Bite Out of the Big Apple
They're baaaaack . . . 
It's official: bed bugs have moved in and made themselves at home in the Pacific Investment Management Company's (PIMCO) New York office.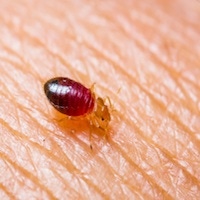 Hundreds of employees have been evacuated from the building, with many worried they might carry the blood-sucking pests home to friends and family, according to Fox Business.
Unfortunately, New York is just the latest casualty in the ongoing bedbug war — are these little biters winning by attrition?
Comeback Tour
A recent Forbes article tells the tale: bed bugs are making a comeback. A Lodi, California movie theater was recently shut down after an outbreak and last week a senior living complex in North Carolina had to be fumigated due to an infestation.
The Big Apple, meanwhile, is getting bitten from all sides as bed bugs have also been found in subway cars. Despite officials pulling three cars for cleaning, transit riders say the problem is much bigger.
So why the resurgence? Part of the problem is DDT. Killing bugs with DDT isn't a great idea since the chemical also impacts human health, but the toxin is basically bed bug Armageddon. It was potent enough, in fact, that the bugs were virtually eliminated in the United States midway through the last century.
After DDT was banned, however, the bugs started making their way to the US as immigrants — on planes, trains, boats and even vehicles.
Bite Me
So what's the big deal with bed bugs? Why do they infest hotels, offices and homes? For starters, they like human blood. And dark, warm spaces. So they have no problem hitching a ride on your clothing or in your suitcase back to your house or local office and then jumping off again to find a viable colony site.
Once established, a bed bug infestation grows rapidly and the creepy critters may hide in anything from upholstered chair cushions to tiny wall crevices — with bodies the thickness of a credit card, they can hide just about anywhere.
When it's time to feed, the bugs emerge from their hiding places and drain small amounts of blood from animals or humans, often leaving behind itchy welts. Their small size and almost unnoticeable bite make them difficult to identify and even harder to treat: many pest companies say it takes multiple treatments for total eradication.
Bug Off
If PIMCO wants to get up and running again, the bed bugs have to go. Elimination starts with professional cleaning — in lieu of harsh chemicals that can damage property and pose risk to humans, it's possible to kill bed bugs using vapor steam cleaning equipment, which exposes bugs and eggs to steam heated to 285 degrees Fahrenheit, killing them almost instantly.
Fortunately, industrial maintenance companies like Goodway offer a selection of dry vapor steam cleaners to help you get rid of a bed bug infestation. For example, our models include a backpack model and a floor model. Both have high volumes of high-heat steam that kill bed bugs while also sanitizing and removing dirt, viruses, bacteria, allergens, mold and mildew.
Anyone exposed to bed bugs should launder their clothing in hot water and dry it for at least 30 minutes on the high setting. Otherwise, it's possible for the bugs to simply hitch a ride back and infest a building all over again.
New York is under siege by bed bugs. DDT is out, but turning up the heat can send these pests packing.
Next Steps: