Revised ACR Provides Useful Tool for Effective HVAC Maintenance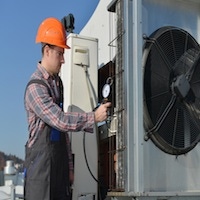 In 2013 the NADCA (National Air Duct Cleaners Association) released a revised ACR, the Standard for the Assessment, Cleaning, and Restoration of HVAC Systems.
The ACR standard establishes the minimum performance requirements for assessing new and existing HVAC systems; evaluating the cleanliness of HVAC system components; determining the need to clean; and cleaning and restoring systems to a verifiable cleanliness level.
The ACR offers a thorough resource for HVAC cleaning and restoration professionals. NCDA summarizes the standard as providing "practical, reliable and industry-backed information" for the following:
Assessment of new and existing HVAC systems
The evaluation of HVAC system components
Prevention of job related hazards
A guide for the cleaning and restoration of HVAC systems to a certain cleanliness level
Why is a standard such as the ACR important? Many times proper HVAC system maintenance is put on the back burner. The ACR provides a document that facility managers can reference during restoration projects or routine cleaning.
All HVAC systems get dirty over time, which affects performance. And if they're not cleaned properly, the systems harbor potentially harmful dust, particles, scale, sludge and even mold. Any dust or dirt that accumulates in air ducts or on coils makes it difficult for a building to breathe properly and operate efficiently.
HVAC systems account for a substantial amount of a facility's operating costs. If heat transfer is hindered because a system is packed with contaminants, it doesn't operate efficiently, airflow is reduced and major components, such as the compressor, can fail.
As you know from our past posts about indoor air quality, a dirty HVAC system poses a health risk. Legionella can grow under slime and scale. Mold spores can germinate and grow in a HVAC system. And a dirty HVAC system can harbor other contaminants responsible for infectious diseases such as influenza and chicken pox.
But with adequate HVAC system maintenance, you can prevent the various conditions that lead to poor indoor air quality, all while lowering energy bills, creating greater operating efficiency and extending the life of the HVAC system. Goodway offers top-of-the-line HVAC system cleaning products including our chiller tube cleaning systems, coil cleaning systems, cooling tower cleaning systems, descaling chemicals, and mold control chemicals.
Next Steps: