Overcoming Equipment Sanitation Challenges in the Food/Beverage Industry
In the food and beverage industry, a surface is considered "clean" if it is free of food residue, bad odors and grease. Additionally the surface should be sanitized and free of microorganisms.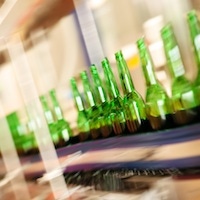 An effective cleaning and sanitation program is essential in food and beverage production facilities. If the program is not followed, there is a risk that the food and/or beverages could become contaminated by microorganisms.
A cleaning and sanitation program should include the following, according to the Oregon State University Extension Service:
Daily routine cleaning and sanitizing procedures that are performed throughout as well as at the end of food processing/preparation.
Procedures should be monitored to ensure they are preformed properly.
A verification should be performed to monitor the effectiveness of the cleaning/sanitation program.
Staff safety must always be considered when developing an effective program. Some things to take into consideration include the safe use of chemicals and hot water.
In an article on Foodproductiondaily.com, food technology expert Andrew Knowles from JBT FoodTech explains that it's becoming more and more important to focus on machine hygiene.
Because of possible Listeria and E. coli contamination, the standards are becoming more stringent. If facilities managers don't make cleaning and sanitation top priorities, product quality can be affected, resulting in product recalls.
Knowles notes that freezer systems can present some of the harder obstacles to keeping food processing equipment clean. The food technology expert mentions heat exchanger coils, for example, as one equipment component that is especially prone to contamination because small particles can get stuck in the crevices of the coils.
Because of the many equipment parts involved in food processing, all functions and operations must be included in a cleaning/sanitation program. Cleaning and sanitation must be ongoing processes, not just handled sporadically.
People are important considerations in food sanitation, stresses a publication about food safety from the University of Florida Extension. Most importantly, it's the people who set and follow the rules. A cleaning/sanitation program is only effective if the people understand its importance and are willing to use it.
That's why the UF Extension's sanitation guidelines focus heavily on educating workers, explaining that sanitation practices should include ongoing training which gives personnel an understanding of the processes, explains where problems may exist and encourages a desire in personnel to protect the consumer.
With the right tools, cleaning and sanitation is made easier. Fortunately, Goodway offers a complete line of cleaning products for food and beverage processing facilities.
Our products contain a variety of solutions to keep your facility and machinery clean and free of residues, dirt, debris and microorganisms. You can satisfy all your SSOP (Sanitation Standard Operating Procedures) needs with our solutions including our industrial vacuum systems, dry vapor steam cleaners, chiller and heat exchanger tube cleaning machinery and chemicals.
Next Steps: