Top 3 Ways to Prevent Common Building Materials From Causing Asthma
Asthma rates continue to rise despite the asthma control strategies facilities managers put in place, which are mostly in the form of indoor air quality control programs.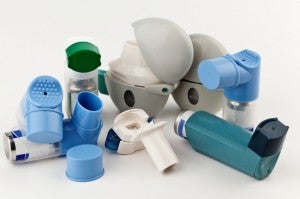 In fact, 26 million people suffer from chronic asthma, 8 million of whom are children, according to a report from the Healthy Building Network (HBN).
Currently there is very little focus on preventing chemical exposure that's linked to causing asthma. Various health organizations have identified several chemicals known to cause the onset of asthma, labeling them asthmagens. But HBN says more strategies need to be in place to prevent the asthma epidemic.
HBN identifies 20 top-priority asthmagens that are used in building materials. These asthmagens, such as acrylates, ammonium hydroxide, formaldehyde and styrene, are found in foam insulation, paint, adhesives, flooring and carpets, among other materials. Building occupants come in contact with these materials and their chemicals though touch or inhalation.
Evidence shows that exposure to chemicals used in building products can negatively affect children, causing them to develop asthma, according to the HBN report.
In fact, the report claims that chemicals, especially phthalate plasticizers, can disrupt the normal development of vital organs such as lungs. Exposure to chemicals can occur before and after birth, impairing lung development and leading to asthma.
The current emissions-based building product certification standards don't address limiting the use of chemicals that cause the onset of asthma. Instead, most building product indoor air quality certification programs are only meant to limit occupant exposure to VOCs (volatile organic chemicals).
But these programs for limiting VOCs may not be effective enough to protect people from developing asthma. Some asthmagen chemicals are not VOCs and therefore aren't detected by current programs. And that means that asthmagens can be found in building products that have passed low VOC-emissions certification programs.
HBN offers the following recommendations to keep from introducing asthmagens from building materials into the indoor environment:
Screen the contents of building products for asthmagens. Building owners/facility managers can use the Pharos Building Product Library to identify products that do not contain top-priority asthmagens.
Increase research to understand how chemicals in building materials contribute to the rising asthma epidemic, and to create safer alternatives to asthmagens.
Develop protocols and modify indoor air quality certification and building rating systems to address asthma.
Read the full report to learn more about preventing asthma by selecting better building products.
Next Steps: