Top 8 Recommendations for Keeping Your Cooling Tower Clean
It's time to start thinking about cooling tower maintenance again. The top two reasons we bring up this topic at least yearly is because a dirty cooling tower 1) affects system performance and 2) can affect occupant health.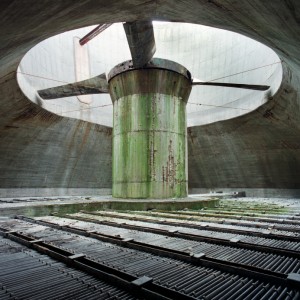 We often discuss the seriousness of Legionnaires' disease, and a cooling tower's role in the transmission of Legionella pneumophila, the bacteria that causes the disease.
You can read more about the reasons for cooling tower maintenance in our post, Cooling Tower Maintenance & Goodway's Cooling Tower Vacuum.
The Occupational Safety and Health Administration (OSHA) recommends visual inspection and regular maintenance as the best ways to control the growth of organisms in a cooling tower. The organization discourages the use of water quality measurements (total bacterial counts, total dissolved solids and pH) to monitor Legionnaires' disease bacteria (LDB) levels.
Here are more of OSHA's top recommendations for keeping your facility's cooling tower clean and free of LDB:
Use chemical biocides to control microorganisms.
Keep sump water around 68°F or lower.
Inspect the cooling tower equipment monthly.
Clean and disinfect your facility's cooling tower quarterly or twice a year if the unit is not in operation year-round. It's important to clean it at the beginning of each cooling season and after it's shut down in the fall.
Systems with high levels of LDB may require more cleaning.
Clean and disinfect systems any time they are out of service for an extended time.
Clean and disinfect new systems to remove any construction material residue.
Keep detailed records showing all dates and details of operations and maintenance, a description of the operating system, and procedures for operation and maintenance including the use of any corrosion inhibitors, biocides, or other chemicals.
You can read the complete list of cooling tower maintenance recommendations from OSHA here.
The process of cleaning your facility's cooling tower used to require a total shut down, but that's no longer the case when using Goodway's Tower Vacuum. All cleaning is completed while the tower is still on line.
We offer a complete line of cooling tower cleaning equipment, including our foaming detergent, TowerShine. Use our MoldTex or MoldTek-XC products to kill bacteria on cooling tower surfaces.
Add our ScaleBreak into the water after you are finished cleaning to prevent scale buildup. Our biocide product, Pancare, can be added to the cooling tower water to prevent bacterial growth.
Download our "How To Clean Cooling Towers" checklist for more details on the step-by-step tower cleaning process.
Next Steps: