Financial Incentives for Green Roof Retrofits
Did you know a green roof not only helps you cut your facility's cooling bills in the summer but it can also help you reduce your heating bills in the winter.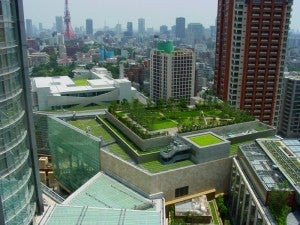 In fact, a green roof  can help you reduce your cooling bill by up to 75% compared to conventional roofing, and it can help you save between 5.63% and 5.95% – up to 61% for upper floors – on your heating costs.
A green roof is a "living roof." It's either fully or partially covered with vegetation and a growing medium, and it has a waterproofing membrane. Additionally it may contain drainage and irrigation systems.
Green roofs can be installed on a range of commercial buildings. Thanks to some new financial incentives, green roofs may become increasingly affordable for more facilities, according to Buildings.com.
Green roofs serve several purposes, but first and foremost they offer shade and remove heat from the air through evapotranspiration – the movement of water to the atmosphere from places like the soil or vegetation. This reduces the temperature of the surface of the roof as well as of the surrounding air.
The EPA says these are the benefits of a green roof:
Reduces energy usage: Because green roofs absorb heat and insulate buildings, they reduce the energy needed for heating and cooling.
Reduces pollution and greenhouse gas emissions: When air conditioning demand is lessened, so is the production of air pollution and greenhouse gas emissions.
Improves occupant health and comfort: Green roofs reduce heat transfer, lowering the heat stress usually experienced during heat waves and improving indoor comfort.
Better stormwater management and water quality: Greens roofs slow stormwater runoff and filter rainwater pollutants.
Quality of life: Green roofs provide habitats for many species.
One example of a green roof financial incentive program is the Green Infrastructure Grants from the New York City Department of Environmental Protection (DEP). The grants can cover the startup costs for commercial building owners to retrofit their facilities with green roofs.
Two projects serve as examples of what's possible with the grant funding.
Bishop Loughlin Memorial High School, a Catholic high school in Brooklyn, installed 13,300 square feet of vegetated mats on its building after receiving a $235,700 Green Infrastructure Grant. About 90% of the roof is covered in green material that will help the building handle the expected 435,000 gallons of stormwater that falls on the school's roof every year.
The South Bronx nonprofit Osborne Association installed a green rooftop system to absorb rainwater and improve air quality. The system is expected to reduce runoff by 32% during a typical storm. The NYC DEP contributed $288,000 to the project via a Green Infrastructure Grant.
The upfront costs of a green roof retrofit are higher when compared to the installation of conventional materials, but facility owners can offset the costs over time through the savings achieved by using less energy and saving stormwater management costs.
Read more about NYC's Green Infrastructure Grant Program.
Consult your local government office for more information on what incentives may be available to facilities that invest in green roof retrofits.
Next Steps: