ASHRAE Rolls Out Next-Gen GreenGuide
HVAC designers, building owners, architects, building managers or any contractor involved in green building design should find the fourth edition of AHSRAE's GreenGuide a useful resource on many subjects relevant to green building design.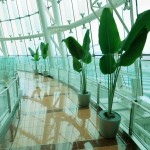 Quite a bit has changed in the green building industry in the decade since the first edition of the GreenGuide was published in 2004. While green building programs began as voluntary, ASHRAE says the industry has seen them evolve into the mainstream, sometimes becoming mandatory.
"ASHRAE GreenGuide: The Design, Construction, and Operation of Sustainable Buildings, Fourth Edition," includes several changes that will affect green building design.
ASHRAE says most importantly the guide is designed to "use an integrated, building systems perspective to provide need-to-know information on what to do, where to turn, what to suggest, and how to interact with other members of the design team."
One of the changes includes a revision of the indoor environmental quality chapter; much of the new content is based on another one of ASHRAE's guides, the "Indoor Air Quality Guide: Best Practices for Design, Construction and Commissioning."
In its new GreenGuide, ASHRAE has added a new chapter on sustainable sites, including a summary of key issues of the following: where to locate the building project; storm water management; landscaping; urban heat island effect; and exterior lighting as a pollution source.
And as in previous editions, the new edition also includes "GreenTips," sidebars that contain information on processes, techniques, measures and systems. The updated edition has 44 GreenTips including new topics concerning data centers, green roofs and rain gardens.
The guide is available as a print book or e-book for $103 each, or $87 for ASHRAE members. To order, contact ASHRAE Customer Contact Center at 1-800-527-4723 (United States and Canada) or visit www.ashrae.org/bookstore.
Or for more information about the guide, visit www.ashrae.org/greenguide.
Next Steps: