HVAC System Safety: Top 5 Questions You Should Be Asking
Let's face it, HVAC systems are complex. Their various connected parts can harbor nasty biological contaminants including mold, mildew, viruses, bacteria and the droppings from rodents, cockroaches or other pests.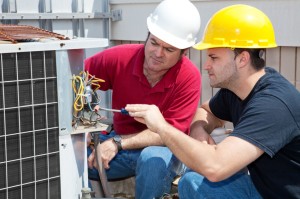 Just as a HVAC system can spread air, it can spread contaminants. Even bacteria and viruses such as measles, influenza, tuberculosis and Legionella, which are transmitted via air, can flow through a HVAC system.
We've also addressed the security of HVAC systems, explaining that they are susceptible to accidental or biological chemical threats in our blog post, HVAC Security: Is Your Facility Prepared?
The problem is that facility managers and others involved in HVAC design and maintenance may not be taking security as seriously as they should be, according to an article in Engineered Systems Magazine. And it seems that few HVAC design engineers are very familiar with the subject, the article notes.
You can't just assume that your HVAC system will never experience a contaminant issue. In fact, there's a greater chance your building will be exposed to an accidental contamination rather than a deliberate one.
ASHRAE is currently updating Chapter 59 of the 2015 ASHRAE Handbook – HVAC Application, which covers HVAC security. It will be interesting to see what's in the new version of ASHRAE, and if this topic will gain more attention after the update.
In the meantime, here are the five top questions Engineered Systems Magazine recommends addressing the next time you talk about your facility's security plan:
If your building's HVAC system has an alarm to alert you of toxic spills (as it should), will the system also assist in containing fumes?
Does the building have pull stations to alert others when a spill occurs?
Are the HVAC systems and the connected building automation and electrical power systems engineered to combat a natural disaster?
Does your building's automation system have a solution for an infectious disease containment engineered into its design?
Have you considered your facility's proximity to roadways and railways where accidents could occur, and how you will deal with the infiltration of toxic fumes, if an accident occurs?
Next Steps: