Green Cleaning: The History of Steam Cleaners
Steam cleaning has been used for more than 150 years as a way to remove grease and oil from machinery, primarily on railways, ships, car/truck engines and on power stations.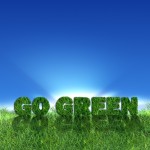 In the 1960s-1970s, Italian boiler manufacturers purportedly started experimenting with steam vapor as a cleaning method. The steam vapor cleaning method was embraced by European manufacturers more than 30 years ago when they realized the potential cleaning power of highly pressurized, low moisture steam.
But because of differing voltage standards between Europe and the United States, vapor steam cleaners were impractical in the US market until recently.
Previously vapor steam cleaners required 220 volts of wattage to create enough steam to clean effectively, which is the standard voltage in Europe. In the United States, the standard is 115 volts, but newer technologies have made it possible for vapor steam cleaners to heat the water up to 330 degrees Fahrenheit and create steam by using only 115 volts.
Today, in the US steam vapor cleaning is growing in popularity as a preferred ecological cleaning method.
Vapor steam cleaners heat water inside an internal boiler to a high temperature. This causes the water to become a fine, dry mist. The vapor particles are smaller than steam particles, and this method of cleaning is referred to as "dry" vapor steam cleaning.
The released vapor is only made up of about 5%-6% H20 so surfaces dry quickly. When steam is released from the cleaner it softens dirt, grease, oil or other substances on surfaces, while using pressure to dislodge them, which takes much of the work out of cleaning. Surfaces are cleaned and sanitized without the use of chemicals.
Goodway's dry vapor steam cleaning products are used in manufacturing and food/beverage production as effective ways to remove dirt and grime from machinery and other surfaces.
GVC-18000, our commercial heavy-duty Dry Vapor-Steam Cleaner, is not only powerful, but compact and easy to move as well. It has two stainless steel boilers to heat the water, and it provides a variable output pressure of 0-145 PSI and an output temperature of 290 degrees Fahrenheit. The unit can produce continuous steam at 7-9 gallons per hour. It also comes with hoses and various cleaning tool attachments to reach all cracks and crevices.
Next Steps: