US Postal Service turns to HEPA Vacuums to Help Safeguard Employees
Facility Maintenance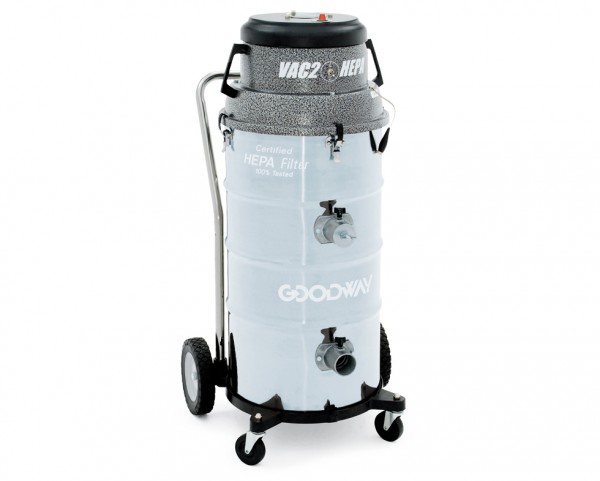 December 1, 2001 In October, when the first confirmed case of anthrax was reported as having been delivered via mail, the United States Postal Service quickly turned its attention to protecting its employees. Gloves, masks, laboratory testing and antibiotics, as needed, were the first steps. For a longer term solution to the problem of mail-borne contaminants, it was agreed that using HEPA vacuums in postal facilities will become the first line of defense.
The facilities themselves range from the traditional post offices found in cities, towns and villages across America, to the bulk mailing centers (BMC's) where tons of mail are sorted daily by rapid reading machines for distribution to the region's post offices. Sweeping and air cleaning maintenance procedures have been the traditional ways to handle the accumulations of paper dust. But, even careful sweeping will allow some of this omnipresent dust to become airborne. Since some of the dust may now, possibly, carry with it anthrax spores or other biohazard contaminants, the procedure had to change.
The reason for requiring HEPA (High Efficiency Particulate Air) vacuums rather than conventional industrial vacuums has to do with the size of the anthrax spores, which measure less than 5 microns in size (1 micron = 1 x 10-6m). By definition, a true HEPA filter removes 99.97% of all particulate matter down to 0.3 microns. To emphasize this filtering efficiency, 0.3 microns is 1/75,000 of an inch, or about 1/300 the diameter of a human hair. The average non-HEPA vacuum, by comparison, is only capable of filtering particulates down to about 15 microns. While this meets the needs of most general cleaning maintenance, it does not come close to the demands posed by ultra-fine hazardous particles.
A call quickly went out to Goodway Technologies Corporation (Stamford, CT), one of the few manufactures of proven, true HEPA industrial vacuums. Tim Kane, exec. vice president of Goodway, met with USPS officials to review the capabilities offered by Goodway HEPA vacuums in helping protect postal employees. "We have been manufacturing various configurations of HEPA vacuums for many years," says Mr. Kane, "and the Postal Service already knew of the quality of our equipment as we have already been providing some of their facilities with a variety of general maintenance products."
Goodway HEPA vacuums have been proving themselves in difficult environments ranging from nuclear power plants, to laboratory clean rooms, to pharmaceutical companies where processing equipment must be completely cleaned between product batches. Not only is the Goodway HEPA vacuum filter, at 12" in diameter, one of the largest available among portable true HEPA vacuums in the industry. Every Goodway HEPA vacuum filter is DOP tested to 150 CFM. This is a very accurate and specialized test, culminating with certification affixed to each HEPA filter. Although they will be used in the Postal facilities for dry particles, the powerful twin motors produce a static water lift rated at 83." Vacuums are rated by two performance factors ï¾– static lift and air displacement.
Static lift, measured in inches of water or mercury, is an indication of the amount of energy in the air stream generated by the vacuum available to do the work such as overcome obstacles and get heavier materials in motion.
Air displacement, measured in cubic feet per minute (CFM), indicates the amount of air moving through the vacuum which determines the speed of material recovery. A balanced combination of static lift and air displacement makes for the best vacuuming system.
In operation, Goodway HEPA vacuums filter particles to 0.3 microns with a series of filters. First there is a disposable 10 gallon collection bag that filters particles to 5 microns. Then a disposable filter protector bag and cartridge filter that filter to particles 2 microns, and finally the HEPA vacuum filter. The stainless steel tank is lined with a heavy-duty 4 mil poly liner. This unique filter arrangement allows the operator to dispose of the collection bag and filter protector neatly within the confines of the poly drum liner. This helps ensure safe, efficient removal of debris.
A HEPA vacuum filter monitor light lets the operator know when it is time to replace the filter. The stainless steel vacuum tank rides atop large wheels and casters for maneuverability in postal facilities of any configuration. A variety of accessories provide the best tool for each situation. For example, in BCMï's, every three to six hours the sorting machines are shut down for cleaning. Not only are the conveyers, railings, pockets and guarding involved in this procedure, but also the "insides" of the controls, including PC boards and anything else reachable by the very fine paper dust.
Special tools will protect delicate electronic systems within the sorting equipment. An employee from each Postal facility will receive training in HEPA vacuuming maintenance at central locations. "We are especially pleased," says Mr. Kane, " that our engineers were able to take some added specifications requested by the Postal Service and engineer them into our HEPA vacuum in only 48 hours. Our reaction time to meeting these specifications is critical, considering the gravity of the current biohazard situation." Protection from biohazards calls for major procedural changes in cleaning and maintenance practices.
There are more than 40,000 USPS facilities to be protected. Some are very automated while many require manual operations to receive, sort and prepare mail for delivery. What this will call for are various configurations of HEPA vacuums. "Some will look like the ones weï're providing right now," says Mr. Kane. "Others may be back-pack models, wet-dry or dry-only models, and even rolling HEPA vacuums with front-end pickup for wide swath capabilities.
Goodway and other companies involved will be working very long and hard to provide the HEPA solutions that will help the United States Postal Service protect their eight hundred thousand employees now and well into the future."