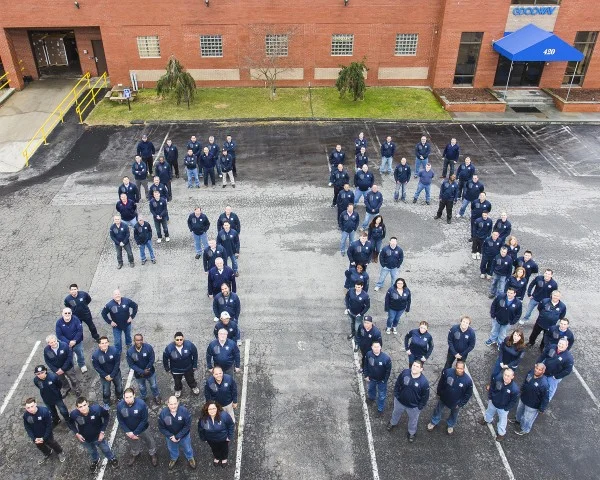 Goodway Technologies
Goodway Technologies es un fabricante y comercializador mundial de soluciones de mantenimiento industrial para la climatización comercial , gestión de instalaciones , fabricación , generación de energía , marítimo y otras aplicaciones industriales . Constituida en 1966 , nuestros productos innovadores han sido utilizados por las instalaciones y el personal de mantenimiento de plantas en todo el mundo para el mantenimiento de los sistemas de climatización , maquinaria de la planta , la limpieza de materiales peligrosos y otras necesidades de mantenimiento industrial. Nuestros productos incluyen sistemas de tubo de limpieza , aspiradoras industriales, sistemas de mantenimiento de torres de refrigeración , lavadoras a presión comerciales , sistemas de descalcificación , productos de limpieza de la bobina , la manguera y los sistemas de limpieza de tuberías y más .
Los mercados centrales sirven:
Mantenimiento de climatización comercial / residencial Alimentos / Bebidas Producción ( Panadería, aperitivos , productos lácteos , etc. )
Mantenimiento Generación Utilidad / energía ( carbón, gas , nuclear , etc. )
Manufactura / Producción
Industrial HVAC
Marítimo / mantenimiento de maquinaria
Goodway Technologies industrial maintenance solutions are available worldwide for commercial HVAC, facility management, manufacturing, food production, power generation, maritime, and other industrial markets. Contractors, engineers, and maintenance professionals worldwide use our innovative, technology-driven solutions to perform routine maintenance duties faster, easier, safer, and more efficiently.
Incorporated in 1966, facilities and plant maintenance personnel have used our innovative products worldwide to maintain HVAC systems, plant machinery, hazardous material cleanup, surface cleaning and sanitation, and other critical industrial maintenance needs. We manufacture and ship from a 60,000 square foot plant in Stamford, CT, USA.
Our products include tube cleaning systems, industrial vacuums, cooling tower maintenance systems, dry steam sanitation solutions, descaling systems, coil cleaning products, hose & pipe cleaning systems, and more.
Additionally, our line of sanitation and disinfection systems, including our BIOSPRAY alcohol-based disinfectant products, have been used globally to keep facilities and employees safe from pathological and viral outbreaks.
Our Quality Policy: Goodway strives to exceed customer expectations by providing the best-valued products and services and continually improving upon them.
Goodway Technologies is an ISO 9001:2015 certified company.
NOTICE ABOUT IMPROPER USE OF DISINFECTANTS
As a leader in sanitizing and disinfectant products, we must be clear that under no circumstance should our sanitizing and disinfectant products be administered into the human body (through injection, ingestion or any other route). As with all products, our sanitizing and disinfectant products should only be used as intended and in line with usage guidelines.