Eliminate Future Headaches by Performing Chiller Maintenance Before Winter Sets In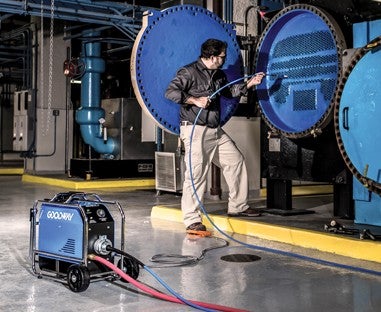 Stamford, Conn., Dec. 10, 2014 – With the colder months approaching, it's the ideal time to start preparing for winter and Goodway recommends performing proper maintenance and cleaning on chiller systems after shutdown, to avoid future headaches.
"Our experience is that being proactive and taking a look at the chiller system in the early winter leads to better results in the spring when it's time to start the system up again," said Tim Kane,  President and CEO of Goodway. "Performing chiller maintenance as early in the winter as possible, gives facility managers the benefit of finding major damage, with plenty of time to fix the problems before the chiller needs to be back in operation."
The U.S. Department of Energy recommends that certain chiller maintenance operations be done at least once a year, including both, cleaning and Eddy testing of condenser and evaporator tubes. Deferring maintenance can lead to further costs associated with additional repair and lost production time.
According to a survey conducted by Goodway, nearly 89 percent of the 255 respondents, indicated that chiller maintenance at their facility is performed once a year. Sixty-four percent said they typically perform the maintenance between January and March. Over half of the respondents conduct Eddy current testing with 57 percent checking the tubes for flaws after cleaning the chiller.
What steps can you take to improve your chiller maintenance?
Developing a plan, or checklist, for chiller maintenance can be beneficial and helps to stay on track, while keeping equipment running properly and efficiently.
Step 1: Maintain a Daily Operating Log – The Federal Energy Management Program (FEMP) recommends updating the log four times a day to monitor key operating parameters that will help indicate if any problems are developing. 
Step 2: Keep Tubes Clean – Fouling and scale can reduce efficiency. Regular monitoring can help recognize when tube cleaning should take place, however it is recommended at least once a year. Pressure loss can also indicate tube corrosion.
Step 3: Ensure a Leak-free Unit – Leaks can affect the operation of the system and release hazardous refrigerants.
Step 4: Sustain Proper Water Treatment – Failure to perform chiller maintenance can also affect water quality. Keep a close eye on water treatment and chemistry.
Step 5: Analyze Oil and Refrigerant – Refrigerant levels should stay within the manufacturer's recommended levels. An air-purge timer (increases in air-purge time may indicate a leak), checking the refrigerant sight-glass for bubbles and checking at all joints and connections with a gas analyzer, are all ways to help track refrigerant levels.
"Chiller systems are one of the more complex pieces of equipment in a plant or facility, and it's worth making the investment to take care of them," Kane said.  
Only 39 percent of the survey respondents said they measure the efficiency gains resulting from chiller cleaning. Those that do measure efficiency gains use temperature monitoring (77 percent), pump pressures and other immediate indicators (41 percent) and energy costs over time (25 percent).
Since chillers are one of the largest operational expenses in a facility's HVAC system, measuring efficiency gains can show facility managers important information, including costs saved, as a result of regular maintenance. A proper operating log can also help identify areas that show improvement following chiller maintenance.
Goodway carries a variety of chiller tube cleaning equipment that's simple to use and can be operated by one person. The RAM-PRO-XL® with TubeGuard technology cleans better than ever, using the TubeGuard tablet-based cleaning system to deliver powerful and biodegradable cleaner that leave tubes protected from corrosion and oxidization, during and after the cleaning.
Visit www.goodway.com for additional education and check out the wide array of facility maintenance tools available to sustain HVAC equipment.
# # #
About Goodway Technologies
For over 45 years, Goodway Technologies has engineered and built high quality maintenance solutions for commercial facility maintenance and heating, ventilation and air conditioning systems. Our products include innovative solutions for chiller and boiler tube cleaning, cooling tower maintenance, evaporator and condenser coils, Ultra Fine Particle Vacuums and practically everything else for the care and maintenance of HVAC systems. Further information is available at www.goodway.com.