Goodway Technologies is proud to add BioSpray® systems to our diverse line of industrial cleaning and maintenance products. 
The BioSpray Surface Sanitation Systems deliver BioSpray sanitation formulas faster and more thoroughly than conventional methods of trigger-spray bottles or wipes. This technology reduces labor time up to 63% while applying up to 88% less product, as validated by independent lab testing and certifications. With the BioSpray sanitation system, you benefit from faster, more consistent application, with lower long-term costs.
The patented technology in BioSpray Systems is specially designed to apply sanitizing, disinfecting and sterilizing solutions to reach deep into nooks, crannies, and crevices where pathogens hide. Environmental surfaces are not inherently flat, and therefore hard-to-reach areas can easily be missed or skipped with manual wiping and spraying, creating opportunities for pathogens to contaminate and flourish, and a false sense of quality assurance or infection control to persist. Get better coverage with BIOSPRAY and BIOSPRAY D2.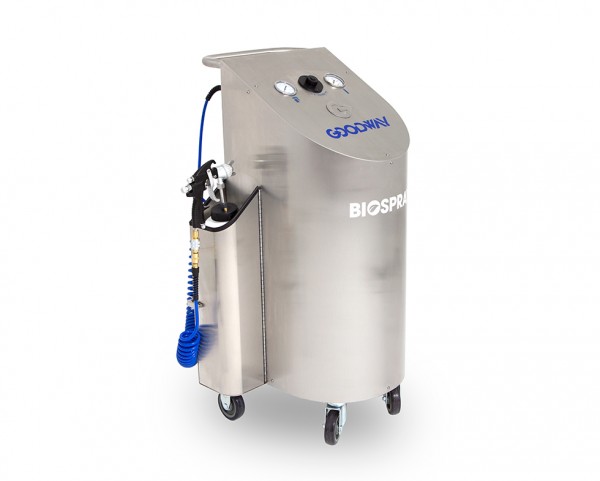 The BioSpray Systems utilize patented, regulated CO2 and Nitrogen delivery designed to propel the BioSpray Technology-Approved Formulas, like BioSpray D2 faster, more efficiently and more conveniently than is possible with traditional application methods. BioSpray Systems are engineered from industrial strength, easy to clean and maintain materials, are affordable and have no cords to cause a safety concern. With no electrical current and electric machinery, BioSpray systems are safer for use in virtually all manufacturing and production environments, including dry food production facilities, sterile room environments, healthcare and more. 
Benefits of the BioSpray Sanitation System include;
Reduce Labor Time - up to 63% with fast and precise delivery system
Less Formula Cost - Uses up to 88% less sanitizing formula with patent-pending technology
Better Coverage - Patented atomizing spray technology reaches nooks, crannies, and crevices
More Consistent Results - Consistent, calibrated delivery system helps ensure dwell times are met on even the most challenging environmental surfaces
Are ideal for hard-to-care-for areas and equipment
Have proprietary quick settings to treat small, single devices up to large areas
Do not require electricity
Portable, light-weight and easy to operate
Quick Payback - Pay for themselves quickly through recuperated and formula savings. 
COMMERCIAL QUALITY STRENGTH AND TECHNOLOGY
The patented BIOSPRAY-20 model is designed to be freeze-resistant with continuous spray use. Continuous spray use is defined as continuous spray time with no non-spray time and is freeze-resistant rated for continuous spraying time equal to the full contents of one CO2 drive cylinder (approximately 90 minutes for a 20 lb. CO2 cylinder at 24-26 psi and standard application rate settings on the atomizing spray gun for the applicable formula).
The BIOSPRAY system uses BIOSPRAY-D2 EPA registered surface disinfectant to provide cutting-edge sanitation performance for your surfaces. 
BIOSPRAY-D2 is ready-to-use, no-rinse, highly evaporative, non-corrosive and fast acting. Ideal for water sensitive equipment, it sanitizes in 60 seconds and disinfects in 5 minutes. This unique product is powerful enough to kill Norovirus yet safe enough to use on food-contact surfaces without a rinse.
E.P.A. Reg. No. 73232-1-86168
NSF Reg. #126509
Certified Kosher and Pareve, for year-round use (excluding Passover).
BIOSPRAY-D2 is a rapid kill surface sanitizer/disinfectant spray approved for "Food Contact Surfaces without a Rinse" and is a combination of isopropyl alcohol and a powerful quaternary ammonium compound which kills 99.999% of bacteria on food contact surfaces in 60 seconds and 99.9% of bacteria on non-food contact surfaces in 10 seconds.
Safe for water sensitive equipment, BIOSPRAY-D2 is used in food production facilities, especially dry production areas, healthcare, and office buildings. In food production, BioSpray D2 is specifically designed for tools, motors, freezers, control panels, proximity switches, inside electrical panels, thermometers, labelers, utensils, scales, belts and other water sensitive areas.