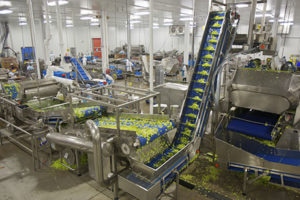 The food and beverage industry have evolved significantly over the past 10 years. The rules for the FDA's Food Safety Modernization Act (FSMA) have changed food and beverage manufacturing by having companies focus on preventing their products from being contaminated rather than limiting the scope of contaminations.
"FSMA is the largest overhaul of government regulations since the 1930s," says Evan D. Reyes, National Account Manager at Goodway Technologies. "The intent is to tighten regulations on food processing, ultimately to provide safer food for consumers."
The law now requires that companies in the food and beverage industry exert tighter control of operations as well as provide documentation and tracking of every ingredient used throughout the enterprise.
At the same time, organizations are under increasing pressure to keep customers happy and save money but not skimp on quality. Poor quality can have wide-reaching effects on food and beverage companies because just one recall can bring a business to its knees.
"To be successful, food and beverage manufacturers must stress closed-loop quality, traceability across the value chain, and compliance throughout the process," according to the recent "Impact of FSMA: Taking Stock of the F&B Landscape in 2016" report from Aberdeen Group.
Because of the increased attention on the industry, food and beverage companies cannot risk even one shipment that is not of the highest quality, the report notes.
That means food and beverage companies will most likely have to make changes to their operations to ensure compliance with the law.
To do that, organizations must have compliance and traceability built in from the start. Constructing a program that works and complies with FSMA takes "the right technology tools, proper document management and real-time visibility across the enterprise," according to the report.
Reyes says for food and beverage manufacturers to achieve the goals of FSMA, they must focus on hazard analysis, preventive controls, and good manufacturing practices.
There are a number of tools and services to help companies comply with the FDA's regulations, including food safety consulting companies that can help manufacturers transform sanitation programs and meet FSMA compliance, Reyes says.
"Besides consulting, investing in the right tools and technologies can really improve sanitation results, product quality, and food safety and help you prevent cross-contamination and get you up to the FSMA compliance level," he notes.
Additionally, Reyes says suppliers should also help their food and beverage manufacturing customers meet FSMA compliance. Goodway can help by making certain you have the right sanitation equipment in place.
Next Steps:
Oil prices are finally looking up, with the Organization of Petroleum Exporting Countries (OPEC) now willing to make a deal. According to USA Today, in fact, oil saw its largest 3-day rally in a quarter century to land at just over $49.20 a barrel. But it's not all good news: This is a far cry from the $100-plus per-barrel costs that sellers were charging less than a year ago. What's more, as prices start to rebound and drilling rigs fire up again companies need confidence in operation—having walked away when oil tanked, are there rigs ready to perform under pressure?
Read full blog post

»