Moving Water: End of an Era?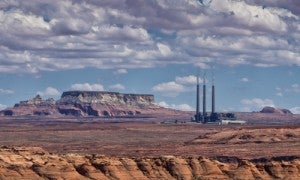 At first glance, the Navajo Generating Station simply seems massive. As the West's largest power plant, it tears through more than 22,000 tons of coal per day. But what sets Navajo apart is how the Lion's Share of its generated power is used—325 miles down the Colorado River, water pumps depend on this energy to pull trillions of gallons of water out of the river and change its course, allowing cities like Tucson and Phoenix to prosper.
All this energy isn't without cost, however, and Pro Publica notes that the plant is now under threat of closure as government agencies take a hard look at its overall emissions profile. Is the business of moving water to enable civic projects drying up?
Known Quantity
The risks involved with Navajo weren't a surprise, with federal scientists warning that the associated pollution could turn the Arizona wilderness into a "national sacrifice area". But the benefits outweighed the costs, at least in the early years, with the Colorado's redirection effectively granting life to both Tucson and Phoenix. When Navajo began construction in 1969, for example, the only other option was damming the Grand Canyon, something government officials did not want to risk.
Ultimately, the results speak for themselves, but as noted by the EPA's Pacific Southwest administrator Jared Blumenfeld, "the mechanics of moving water is just lost on people. It's something that's invisible." It makes sense; if water is available for showers, swimming pools, and water supplies residents don't worry about its origin—or the power cost involved in moving so much liquid.
Emerging Emissions
Navajo isn't done quite yet, however. According to the New York Times, a new EPA regulation which would significantly limit the emissions of "mercury and other toxic pollutants from coal-fired plants" has been struck down by the Supreme Court, which ruled that the agency hadn't properly accounted for the potential costs to industry, which claimed it would take $9.6 spent annually for just $6 million in returns.
Worth noting, however, is that the judgment came down as five opposed and four in favor of the new EPA rules, meaning these kind of emission regulations are far from dead. Power plant operators, therefore, must start preparing for a new generation of emissions rules which demand significant changes to long-standing practices.
The result? While it's not cost-effective to retrofit entire plants in anticipation of new rule changes, it is worth spending more on maintenance, cleaning, and regular system evaluations in an effort to preemptively decrease emission levels.
The jury's out on Navajo, and it may yet be the end of large-scale moving water. But for other power plants, there's still time to change direction and go with the current instead of trying to swim upstream.
Next Steps: