Descaling in Vessels for Effective Heat Transfer
It's been a few years since we addressed this topic head-on, which is why we feel it's necessary to revisit the importance of descaling in ships.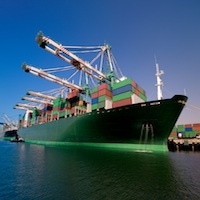 Ships contain a number of heat exchangers, serving many of the same purposes as HVAC system, refrigeration systems and fresh water systems, to name a few.
When water scale develops on a heat transfer surface, heat transfer is greatly affected, reducing equipment efficiency and increasing energy consumption, which increases operating costs.
All too often, the scale buildup is ignored in favor of reducing operational downtime and saving money, resulting in efforts to fix the problem at the last minute or only when mechanical failure occurs.
In 2011, when we last talked about the importance of descaling in ship maintenance, we explained that heat exchanger cleaning is accomplished either mechanically or through the use of chemicals. The downside to mechanical cleaning is that the equipment must be dismantled and it requires a good amount of downtime.
But with chemical descalers you can clean the equipment in place, reducing the workload and downtime. Your operation will save valuable maintenance dollars.
Goodway's ScaleBreak offers a full line of chemical descalers for all your descaling needs with products formulated specifically for cleaning stainless steel and potable water systems.
An effective descaling chemical product should offer the following:
Low corrosion rates. It should remove scale, but have low corrosion rates and not harm the system's seals or gaskets.
Easily

rinses

out. It should only require a quick flush with water to get the product out, and it should leave no residue.
Cleans more than just scale. A

descaler

should also remove sediment, oil and the other materials that are often mixed in with scale.
Simple to use and quick acting. Ship operators need to minimize downtown, requiring an effective

descaler

to be a quick acting product that cleans scale fast.
Check out the Goodway Learning Center. It is a great resource to learn more about the many types of industrial cleaning equipment and products useful to ship maintenance. There you can learn more about our tube cleaners, industrial vacuums, vapor steam cleaners, descaling systems and chemicals, drain cleaners and mold control chemicals.
Next Steps: