President Obama Affirms Commitment to Green Energy Revolution in Inaugural Address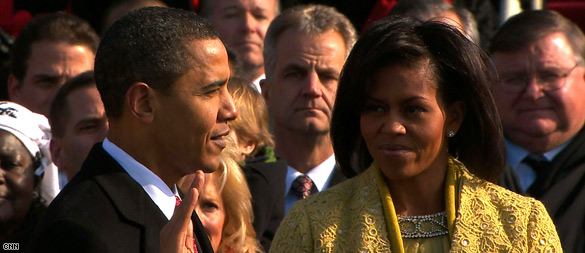 [Updated 1/20/09 at 3:45 p.m. EST with links (at end) to other Web items about the green focus in Obama's speech.]
We offer a sincere congratulations to President Obama for his inauguration today, along with a wish for much success as he assumes the mantle of presidential leadership in the midst of as dramatic and turbulent a time of transition as the U.S. and the rest of the world have seen for many decades.
As has been widely reported in the media, and as we ourselves have talked about here at Just Venting, President Obama has announced a strong commitment to overhauling the nation's energy use habits by having all sorts of green retrofits performed on federal buildings and residences. This plan figures into both his energy and economic recovery plans, which dovetail in their goal of generating huge numbers of green jobs and stimulating other types of economic recovery and progress.
This type of thing catches our attention both because of its wide-scale implications for life at large and its more specific implications for great change in commercial energy use, which is of course a subject that's near and dear to us. This is why we were excited to hear President Obama reaffirm a general commitment to such goals during his inaugural address today, where in the context of talking about the enormous crises and challenges that now face the United States he referred to the fact that "each day brings further evidence that the ways we use energy strengthen our adversaries and threaten our planet." He said that
everywhere we look, there is work to be done. The state of the economy calls for action, bold and swift, and we will act — not only to create new jobs, but to lay a new foundation for growth. We will build the roads and bridges, the electric grids and digital lines that feed our commerce and bind us together. We will restore science to its rightful place, and wield technology's wonders to raise health care's quality and lower its cost. We will harness the sun and the winds and the soil to fuel our cars and run our factories. And we will transform our schools and colleges and universities to meet the demands of a new age. All this we can do. And all this we will do.
(We urge you to read the full text of his speech in order to see these remarks in context.)
Needless to say, such ideas and plans herald big changes in the way buildings are built, powered, heated, cooled, and maintained, not to mention big changes in a thousand and one other things that extend far beyond the scope of our specific focus here at this blog on all matters related to commercial HVAC. Assuming these ideas really gain traction and momentum in actual policy decisions, the time has arrived to roll up our sleeves and get to work. As things begin to change, we'll continue to do our best at keeping you informed of important developments in energy news, economic news, LEED, HVAC cleaning and maintenance, and all of the other aspects of our industry both large and small.
And we'll hope that our new President's inspiring words prove to be a harbinger of positive things to come:
"What is required of us now is a new era of responsibility — a recognition, on the part of every American, that we have duties to ourselves, our nation, and the world, duties that we do not grudgingly accept but rather seize gladly, firm in the knowledge that there is nothing so satisfying to the spirit, so defining of our character, than giving our all to a difficult task."
Check out what some other blogs and Websites are saying about Obama's historic focus on energy and environmental issues in his inauguration speech: