When our customers told us they needed an effective solution for removing scale that was safer than dumping acid into cooling tower water, we were all ears. Shortly after, we introduced the TFC-200 Cooling Tower Fill Cleaner as a solution and 13 categories, 20 contractor reviews and 88 entries later, its unique features and ease of use has earned it a Bronze ranking in this year's Dealer Design Awards from the NEWS.
A special combination of innovative chemical solutions, pump technology and unique turbo nozzles makes this machine the best in its category and one of the most efficient cooling tower cleaners on the market. This all-in-one-system uses 300 PSI of cleaning power to increase the water flow, deep clean tower fill and eliminate hiding places for Legionella, scale and other energy-robbing bacteria on contact. Plus, it was specially designed for use with ScaleBreak-Gel, our low viscosity acidic solution that provides a safer alternative with far less risks than using acids.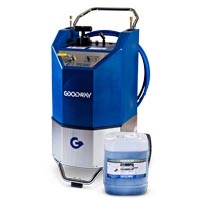 Complete all-in-one system for cleaning lime scale and debris from fill
Equipped with two high-performance pumps for superior circulation
Includes all wand extensions and nozzles for cleaning hard-to-reach areas
Lowers health risks and eliminates growth of hazardous Legionella bacteria
Naturally, this powerful, yet safe award-winning equipment is available at Goodway. See our complete line of equipment to satisfy more of your unique cooling tower maintenance needs.
Monitoring air quality is rapidly shifting from the realm of mere research to more practical applications as HVAC companies look for ways to ensure that both indoor and outdoor air quality levels aren't negatively impacted by a new installation or repair. This rising priority should come as no surprise: Medical News Today notes that air pollution is now a leading stroke risk factor, while ACHR News points out that a large-scale bi-partisan energy bill could have serious impacts on how HVAC units are installed and evaluated. Bottom line? It's not just what's inside a heating or cooling unit that counts. To stay ahead, companies need a way to effectively quantify HVAC air quality.
Indoor Issues
Managing indoor air quality is now the focus of startups like Airviz, a Carnegie Mellon University spinoff — its "Speck" device is designed to report the parts per million of certain 2.5-micron size particles which could pose a threat to human health. In a recent MIT Technology Review piece, for example, author Simson Garfinkel describes the Speck detecting a rise of PM2.5 particles in his home, such as those released by cooking oil, which are in turn linked to diseases like asthma, autism and even ADHD. In fact, the WHO says that four million deaths worldwide are caused by poor indoor air quality conditions; conditions that quickly reached worrisome levels when Garfinkel's family was simply frying eggs.
Read full blog post

»
American wines have secured a spot on the world stage — as noted by NBC News, it's been 40 years since the "Judgment of Paris" which saw new-breed California wineries triumph over established French classics. American winemakers haven't stopped innovating and are now spearheading a move to boxed wines on an even playing field with the best in the business. But are consumers and wine experts ready for upscale boxes of Cabernet and Merlot?
The Cardboard Conundrum
Boxed wines got their start in Australia more than 50 years ago thanks to winemaker Penfolds. The company developed a cardboard box and plastic bladder system which both dramatically lowered production costs and came with the added benefit of keeping wine fresh much longer — what could possibly go wrong?
Read full blog post

»
Summer is coming, and with it a huge uptick in your facility's HVAC usage. If your cooling systems aren't properly serviced and maintained both your facility and your boss may be heating up fairly soon. Want to stay cool, optimize efficiency and still keep costs down? Avoid these five mistakes when buying an enterprise-grade coil cleaning system.
1 – Buying Same-Old System
As noted by AHCR News, coils have undergone significant evolution as companies look for ways to reduce refrigerant use without a loss of cooling power. Advances such as MicroGroove and micro channel technology, for example, leverage smaller-diameter copper tubes to carry less refrigerant at higher pressures. The result? Old cleaning tools may not have the ideal combination of pressure and flow to properly maintain new coils — for example, pump sprays may provide basic surface scrubbing but aren't powerful enough to penetrate new coil beds. Bottom line? If you're running new coils, you need new cleaning tools.
2 – Buying One-Size-Fits-All System
Another common mistake? Using generic tools rather than specific coil cleaning solutions. While "one size fits all" solutions may offer a quick clean they're not designed for regularly scheduled, long-term cleaning. Look for industry-standard solutions — such as Goodway's CoilPro line — which are tailored to meet specific cleaning needs.
Read full blog post

»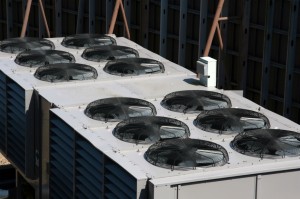 The numbers are clear: Deferred maintenance of cooling towers may save money in the moment but comes with big costs over the long term. Worst-case scenario? Employees or members of the public contract serious, water-borne illnesses such as Legionnaires' Disease. While knee-jerk repairs can put a band-aid on this problem companies need a better way to do business: Proactive maintenance plans that both address emergent issues and keep spending under control. Here's how to get started.
Read full blog post

»